History
Flama was incorporated in Verona in 1995 by the Zonaro brothers with the aim of creating a reality mainly at the service of local industry.
Established as a family-run industrial metal carpentry, over the years it has been able to evolve by equipping itself with specific technologies for sheet metal processing, structuring itself with an industrial organizational model and certifying its quality management system according to UNI EN ISO 9001:2015, in order to collaborate with the most demanding customers.
Today Flama, employing a workforce of about 40 employees, has become a fully-fledged industrial reality.
Currently the headquarters is located in Castelnuovo del Garda in the province of Verona, where it occupies a total area of 8500 square meters. From the logistic point of view, it is situated on the border between Veneto Region and Lombardy, the connection with the A4 motorway is guaranteed through the Sommacampagna tollbooth which is about 6 km away and the Peschiera del Garda tollbooth which is about 4 km away. The A22 motorway can be reached through the Affi tollbooth, which is about 10 km away.
The surface of our headquarters
Certifications
Organization, production processes and product
FLAMA has founded its organization on the adoption of a quality management system certified according to ISO 9001:2015 in order to constantly improve effectiveness and efficiency in the realization of the product, with the aim of increasing customer satisfaction.
FLAMA has invested in the certification of its production processes, in particular obtaining the certification of the welding management system according to UNI EN ISO 3834.
FLAMA has obtained the possibility to certify its product with the CE mark according to the UNI EN 1090 standard in order to guarantee its free circulation within the whole European Union.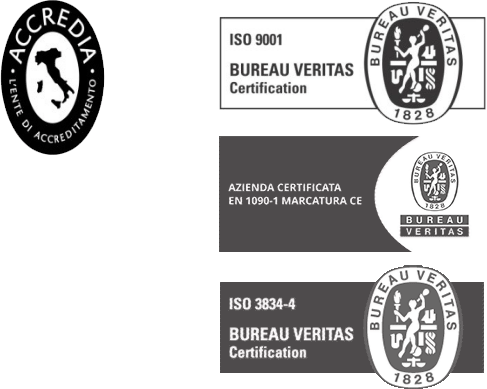 Mission
Flexibility, quality and reliability are the foundations on which the FLAMA project is based.
The creation of a reality able to provide innovative and high quality solutions, aiming at a constant optimization of production processes in order to reduce delivery times and maintain high competitiveness.
Sheet metal is our starting point.
Carbon steel, stainless steel and aluminum the materials that are transformed according to your needs, through a solid experience gained over the years and the use of the most modern production technologies.
Our flexibility allows us to meet supply requirements that include the production of large, medium and small series.
The reliability and the guarantee of the respect of delivery dates are priorities on which we have always invested through a modern computerized management system that allows us to constantly monitor the progress of your orders.